About

Us
Canberra Convention Bureau is the peak body responsible for attracting conferences and meetings to the Canberra region.
WHO WE ARE
The Bureau is a not for profit association funded by ACT Government and industry partners. Its role is to provide expert assistance to clients through every stage of event planning, free of charge.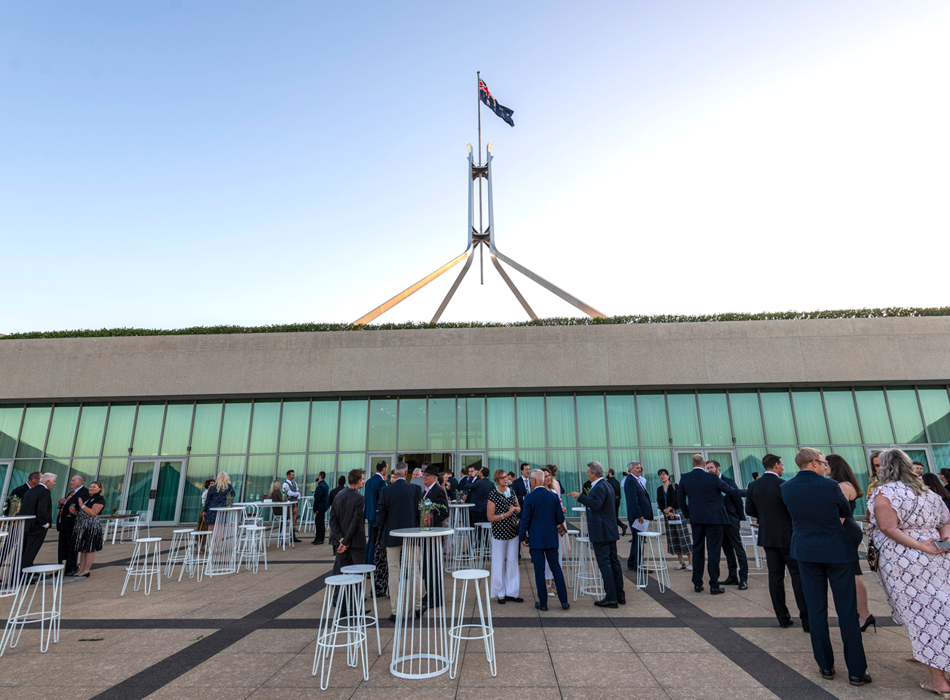 australian parliament house
WHAT WE DO
Our mission is to promote Canberra as an exceptional business events destination to Australia and the world. With the support of a highly collaborative community, our team secures conferences, meetings, incentives programs and other business events to the region by working with associations, corporate organisations and meeting planners.
CANBERRA CONVENTION BUREAU SERVICES
From assistance preparing a bid or proposal to helping you select a venue, source delegate boosting material, our team at Canberra Convention Bureau has the local and expert knowledge to guide and support you through every step of the planning process.
National and International Association Meetings
Corporate Incentives and Meetings
Event planning support
"The secret recipe for a successful international conference bid is people with the knowledge, experience, determination, and good will to work together for the bid. This is what I received from Canberra Convention Bureau; a team of professionals who supported me all the way with their network of connections, experience to get financial support, knowledge of the local environment, and positive attitude. They were in it to win it." Professor Hussein Abbass, Bid Leader for IEEE SSCI 2020, UNSW Canberra
Our Team
Brendon Prout
Director of Business Development
+61 2 6263 5317
brendon.prout@canberraconvention.com.au
CHANEL CEN
Marketing Coordinator
+61 2 6263 5312
chanel.cen@canberraconvention.com.au
DIXIE ADDISON-ROLFE
Event Manager
+61 2 6263 5320
dixie.addison-rolfe@canberraconvention.com.au
Helen Ord
Director of Business Development
+61 2 6263 5317
helen.ord@canberraconvention.com.au
KIMBERLEY ROBERTS-SALEE
Head of Marketing
+61 2 6263 5305
kimberley.roberts-salee@canberraconvention.com.au
Kimberley Wood
Head of Sales / Director of International Bidding
+61 2 6263 5319
kimberley.wood@canberraconvention.com.au
MADELINE NEWTON
Sales Coordinator
+61 2 6263 5300
madeline.newton@canberraconvention.com.au
Michael Matthews
Chief Executive Officer
+61 2 6263 5310
michael.matthews@canberraconvention.com.au
RUTH HYDE
Membership Manager
+61 2 6263 5302
ruth.hyde@canberraconvention.com.au
SAMANTHA SEFTON
Director of Business Development - Sydney
+61 414 384 498
samantha.sefton@canberraconvention.com.au
Sarah Guarino
Sales and Administration Coordinator
+61 2 6263 5300
sarah.guarino@canberraconvention.com.au
The Board
ADAM MYOTT
Director
General Manager, Hyatt Hotel Canberra
ADRIAAN DU PLESSIS
DIRECTOR
General Manager, Novotel Canberra
BARRY NEAME
DIRECTOR
Director, Consec Conference Management
FIONA YAP
DIRECTOR
Professor and School Director (Acting), Crawford School, Australian National University
JOHN RUSSELL
DIRECTOR
Director, Pialligo Estate
Jure Domazet
Chair
Managing Director, Doma Group
LOUISE DOYLE
Director
Assistant-Director General, National Archives of Australia
MICHAEL THOMSON
DIRECTOR
Head of Aviation, Canberra Airport
Rien Donkin
Director
General Manager, Iconic Hotels
Rob Stefanic
TREASURER
Secretary, Department of Parliamentary Services at Parliament of Australia
Stephen Wood
DEPUTY CHAIR
General Manager, National Convention Centre Canberra
Find out about our membership program and the best option for you.
See memberships